THE CHALLENGE
Each year, more than 28,000 life-saving organs are wasted. Some are either mishandled or lost in transit to the point where they are no longer usable. But most are never recovered from deceased patients in the first place, due to a number of problems in the system.
Numerous studies have shown that because of failings within the current organ donation system, Americans are unnecessarily losing thousands of lives and spending billions of taxpayer dollars each year. Without a transplant, patients with kidney failure rely on costly and painful dialysis treatments, which costs taxpayers $36 billion a year. These failures disproportionately impact people of color, who are far more likely to need a transplant and far less likely than their white counterparts to get one in time.
Our partner, Organize, is on a mission to ensure all viable organs are recovered to better serve the 110,000 people currently waiting for a transplant.
THE PROJECT
Organize recruited Bloom Works to help investigate the current donation system. Bloom interviewed more than 30 people, looking specifically at common practices by organ procurement organizations (OPOs), technology managed by government contractors, the government's acquisition of that technology, and the governance structure within the system. We talked extensively with the following interviewees:
Organ procurement organization leaders and staff
Donor hospital staff
Transplant surgeons
Government officials
Tech entrepreneurs interested in offering solutions in this space
Researchers
We then synthesized our research from interviews, case studies, and published articles, and created 5 reports with recommendations for improving the system. We also created 8 maps to help readers visualize the current problems and opportunities within the system -- showing aspects like:
How the organ donation system is currently governed
How money flows through the system
How organs are collected and transplanted, and where they get "lost"
How technology could be improved in a future state
THE RESULT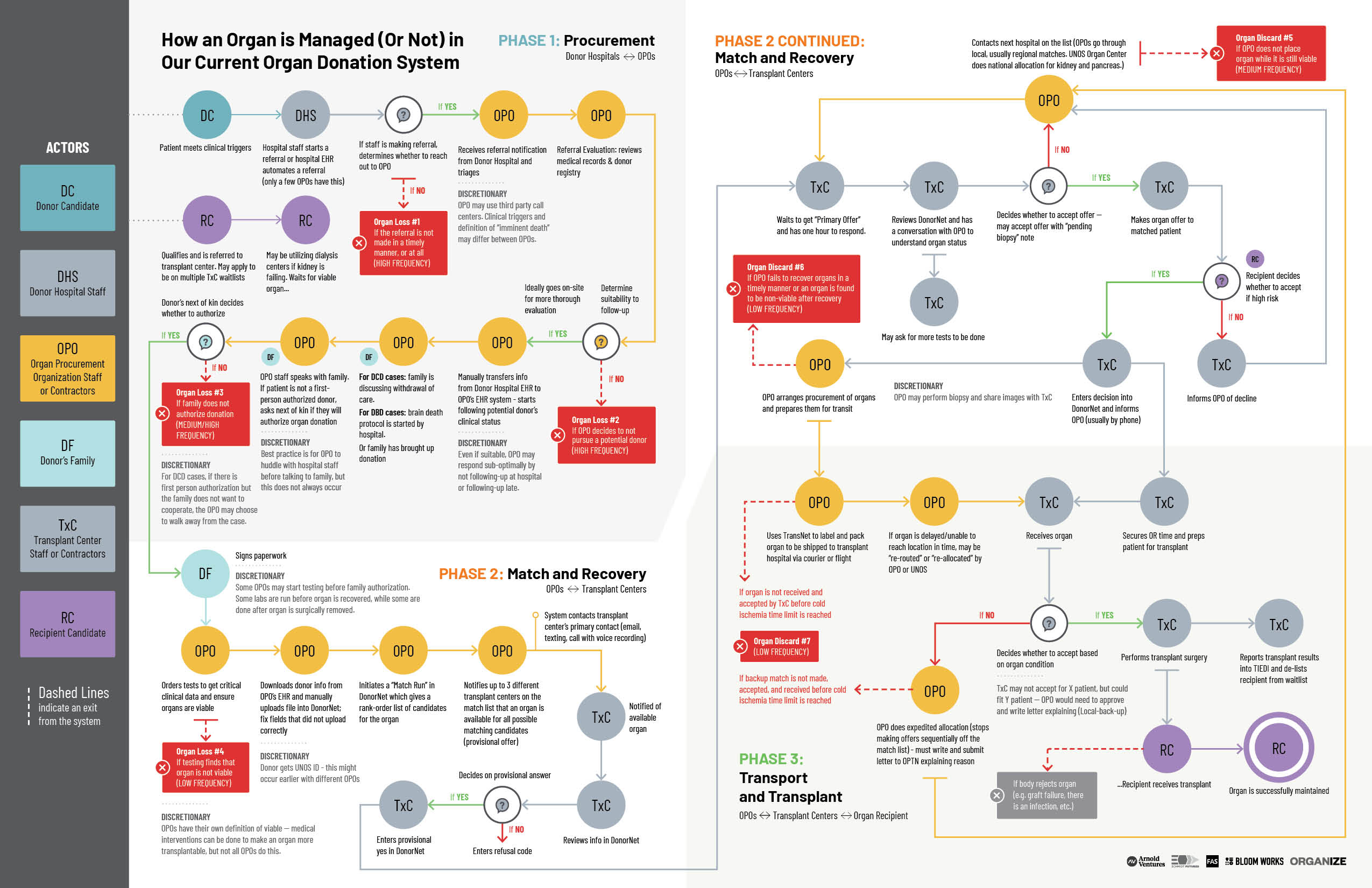 The reports and maps were published online and summarized in a stylized PDF. One former executive of an OPO told us, "this is the best I've ever seen [the governance of organ donation] displayed, ever."
Five former Chief Technology Officers for the U.S. Department of Health and Human Services wrote a foreword for the report, saying "[w]ith this thoughtful set of recommendations, there is a clear path forward that will save lives."
The report was written about in Bloomberg, HealthAffairs, and Vox.com's Future Perfect newsletter. It was also used in an OPO training manual and cited in bipartisan oversight from the Senate Finance Committee.
The Bloom team focused on what matters most to transform a system that has been stuck for too long, highlighting where gaps in process and technology hurt patients waiting for organ transplants. What they were able to extract and synthesize took this important work to another level, including and especially how we present this critical issue to external partners and to clarify why reforms are so urgently needed. The collaboration was truly fantastic."
Greg Segal, CEO Organize
Services Used
Technical Discovery
Procurement Strategy
User Research
Comparative and Landscape Analysis
Branding and Storytelling
Digital Media Outreach and Engagement