The Challenge
Connecticut's Office of Early Childhood (OEC) oversees a host of services and programs that impact more than 200,000 young children and their families. Bloom Works partnered with Skylight to transform OEC's web presence and communication strategy, as site information was outdated and not user-friendly. OEC's main method of communication with users was through PDFs, and they often used the site as a place to store those PDFs. Feedback from users suggested the site was frustrating and hard to understand.
When COVID-19 hit, the team expanded its strategy to address the mounting COVID-19 concerns. Many of the families and their child care providers faced uncertainty and fear around safety and child care access. OEC needed a quick and effective way to assuage their fears and communicate essential safety information.
The Project
Bloom worked iteratively — establishing a single landing page to COVID-19 first, then learning from provider and parent feedback, and building out additional pages to meet their needs. We applied plain language techniques and usability best practices at every step — knowing that clarity is critical, especially during a crisis, when users are likely to be distracted and upset. We also developed internal communication guidelines, which helped OEC adopt a consistent message across materials and shift to developing web content instead of static PDFs.
The Result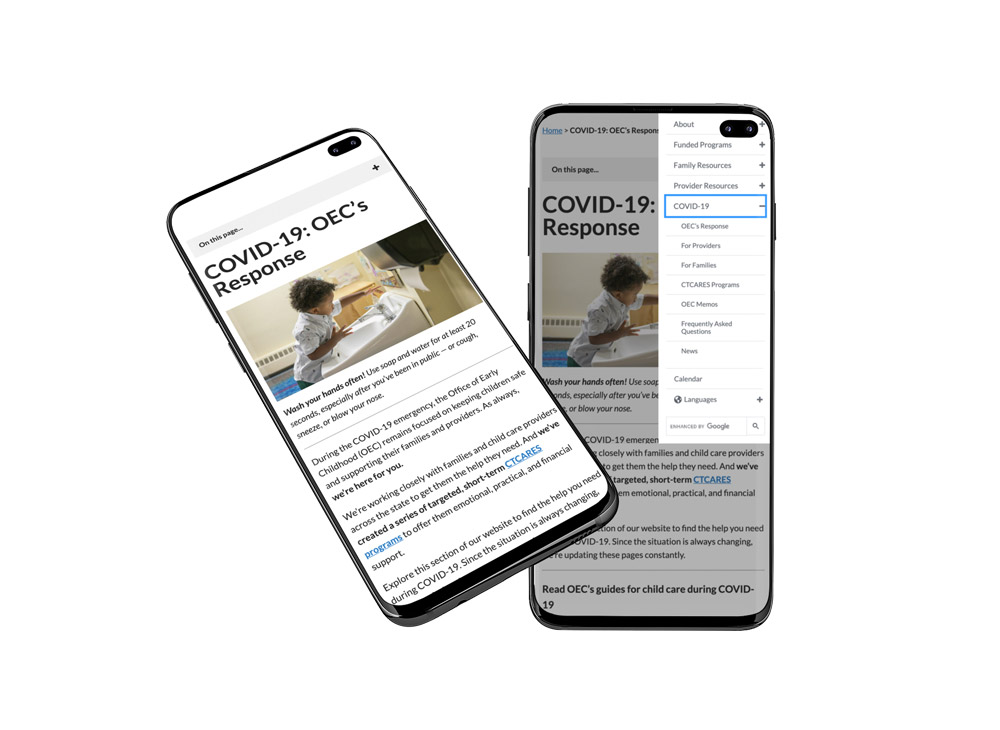 Within 3 months, Bloom and OEC developed 22 COVID-19 specific pages that serve the needs of families and child care providers and highlight the agency's important work during the crisis for the media and stakeholders.
The new COVID-19 pages have proven a vital communication tool for OEC. From April to June, page views for the entire site increased by nearly 500%, driven almost entirely by visits to the COVID-19 pages. In a survey of nearly 3,000 child care providers, 84% said they relied on the website for COVID-19 information — more than 5 times the number of those who said they relied on emails, OEC's former preferred mode of communication.
The crisis provided the opportunity to demonstrate the real world advantages of streamlined digital services, including agile methods, iterative approaches to developing content, and the flexibility of HTML as a communication tool during an emergency. We're confident those benefits will last long after the emergency is over.
Services Used
Content Development and Strategy
Communication and Storytelling