The Challenge
In the U.S., people rely on local governments to provide vital information and services. Many government websites are difficult to navigate and bogged down with unnecessary and outdated content. These sites often organize services and information by the departments that oversee them, requiring users to understand government bureaucracy in order to find what they need.
The good news is that there's increasing momentum to make city and county websites more accessible and user-centered.
The Project
Bloom Works partnered with OpenCities (a SaaS website content management system provider) to help local governments make their information and services more accessible to users. Our content strategists worked in fast-paced, 2-week sprints to review analytics, conduct user research, and develop detailed information architecture recommendations for each website.
While each community and ultimate navigation recommendation was unique, we applied the same principles and overall approach to the work:
Build on what works. We reviewed available background information on each community's existing website, including analytics, call center data, user surveys, and staff surveys. Then we reviewed the key takeaways with the government teams to identify any gaps.
Ground the product in user needs. Using the background data and input from the local team, we identified the top requests for services and information.
Learn from users. We conducted a tree test for each website to better understand residents' mental models. In a tree test, participants are asked to find specific information using only the navigation labels as a guide. By studying participants' search patterns, we gathered insights that helped us iterate on the navigation.
The Result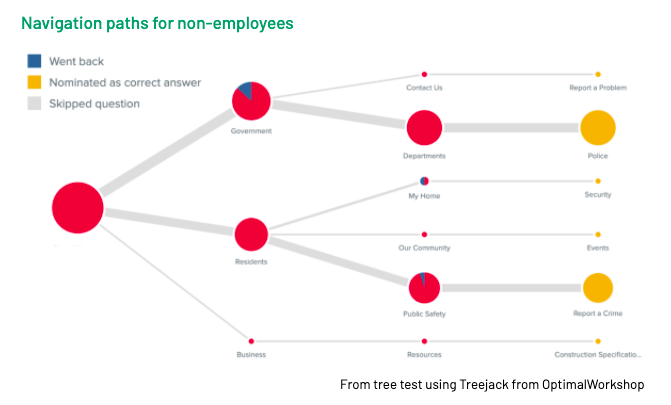 At the end of each sprint, we delivered detailed navigation recommendations, including all content categories and a page-level map of where each existing page would fit into the new structure. The government teams are continuing to iterate on the navigation as they develop their websites for launch in 2021.
Bigger picture, we were able to identify a few takeaways that held up across all of the governments we worked with:
Bureaucracy can be a barrier to finding information and services. When tree test participants tried to complete tasks by navigating to departments, many of them selected a department that wouldn't provide what they needed.
Sites need more than one path to key information. All of the tree tests showed that participants had different ways of thinking about and searching for information.
Employees aren't average users. We compared tree test search patterns for government employees with the search patterns of non-employees. In every tree test, these groups approached tasks differently from each other.
While it's always best to conduct local research, these lessons learned can provide a starting place for communities with limited resources.