THE CHALLENGE
The City of Springfield Massachusetts is working to build the City's resilience for the long-term impacts of climate change, like increasingly frequent and more severe weather events. The City is collaborating with residents and community partners to build trust and share emergency preparation information effectively.
They're particularly focused on reaching Black, Indigenous, and other People of Color (BIPOC), recognizing that these residents are disproportionately impacted by climate change for reasons, like:
Disparities in Black and brown communities compared to white communities, including health, access to news and resources, and opportunities to participate in decisions that affect their neighborhoods
Their likelihood of living in City neighborhoods that are in flood zones
The prevalence of pervasive poverty, which makes people less likely to have smartphones, WiFi access, and the capacity to plan ahead
THE PROJECT
As part of its resilience initiative, the City of Springfield engaged Bloom to develop a communication strategy to support the project's goals. To inform our recommendations, we:
Interviewed 26 residents from diverse backgrounds, City employees, neighborhood council board members, and staff from community-based organizations
Worked with a Resident Advisory Council to get regular input on what we were learning
Conducted a survey to find out how people get their local news and information
Facilitated a visioning exercise to picture and define a successful conclusion to the project
We learned that trust in the City is very low, particularly among Black and brown communities. Some of the residents were skeptical about the likelihood of real change, telling us that they've been asked for input on other issues without any follow-up.  
Based on this, the City's accountability to residents was at the core of our strategy to support action.
THE RESULT
Our strategy development process was collaborative and iterative. We presented draft findings and recommendations at monthly meetings to get feedback and direction from residents. Given the explicit concerns about transparency and accountability, we wanted to make sure that all stakeholders had the opportunity to weigh in and be heard. 
After iterating on our communication strategy, we provided the 3 final deliverables described below. 
Final report
Our final report included detailed findings and recommendations. To keep the report succinct and actionable, we provided guidance and organized our recommendations into 5 areas, like:
Personas based on our research to show the diversity and complexity of challenges that many residents face
Specifics of where Springfield residents turn for local news and information
Examples of consumer-focused communication
Worksheets and tipsheets on clear communication and message development
Quick Start Implementation Guide
It can be overwhelming to implement a new communication strategy, especially when resources and staffing are tight. To help, we recommended some immediate "quick start" actions that individual City staff can implement right away to see progress. 
Slide deck
We designed a slide deck of our key findings and recommendations and presented it to the Resident Advisory Council. We revised it based on their feedback, and it's now a tool that City personnel can share with the community and build momentum.
User Personas
User personas were created to help city employees picture what harder-to-reach residents deal with day to day. By understanding residents' needs, experiences, and behaviors, staff could create more effective, accessible information for the public.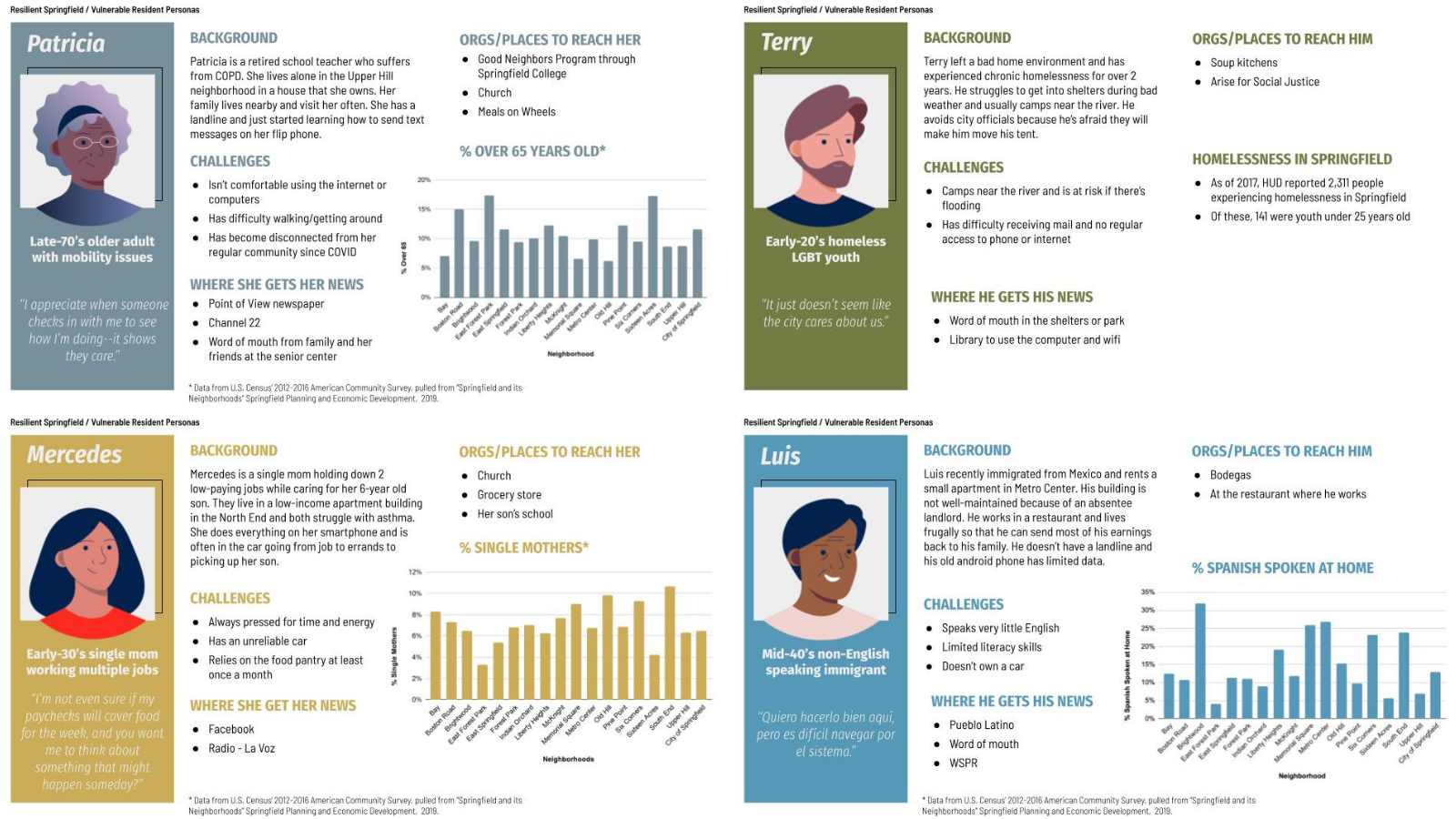 Bloom's support was critical to the success of the process and the report. They helped facilitate an open and transparent process that was easily accessible to both residents and stakeholders. We are grateful for the roadmap they have provided to us going forward."
— Tina Quagliato Sullivan, Director of Disaster Recovery and Compliance, City of Springfield, MA
Services Used
User Research
Communication Strategy
Content Strategy