THE CHALLENGE
The earliest years of a child's life have a critical impact on their future growth and development. The State of Connecticut's Office of Early Childhood (OEC) supports a network of programs and services that help young children and families thrive. OEC relies on its web presence to share important information and resources with people who care for and educate young children — including childcare providers, teachers, other early childhood professionals, and families.
Over the past couple of years, OEC had received consistent feedback from users that its site was frustrating and difficult to use. To advance its mission more effectively, OEC needed to re-imagine its web presence.
THE PROJECT
Using funds from the federal Preschool Development Grant, OEC recruited Bloom Works to help create a user-friendly website that OEC staff would be able to develop and maintain on their own when we were done.
Our team led an iterative, user-centered development process to create a new website for OEC.
Inspired by users
Before we started development, we talked to providers, OEC staff, and parents to learn whether, why, and how they used the website. Then we developed parts of the website over several months, testing each one with potential users. Using this approach, OEC was able to launch the website in sections rather than waiting until the whole site was done.
Written in plain language
Like many government agencies, OEC serves a wide range of stakeholders with different needs. We worked with OEC staff to plan a website that considered each audience and their primary goals. To make sure the site was inviting and helpful to all, we wrote much of the content in plain language.
Built with free technology
OEC needed a website that they could afford long after the grant money runs out. We built the site using popular open-source technology to keep initial development and long-term maintenance costs down. Security and feature updates are free, and OEC can use plug-ins to add new features as needed.
Designed for independence
From the start, our goal was to collaborate with OEC to create a site that would grow with the agency. The content management system (CMS) we used is designed to be user-friendly for non-developers, making it easy for OEC staff to update it independently. We held training sessions for all staff over several months to familiarize them with writing for the web and keeping user needs in the forefront. In the last months of the project, OEC identified specific staff for more intensive training support and technical assistance.
We also created a comprehensive set of tools for them to use, including an online writing style guide, a CMS user guide, and worksheets for content development and approval.
THE RESULT
Left: Before —  Right: After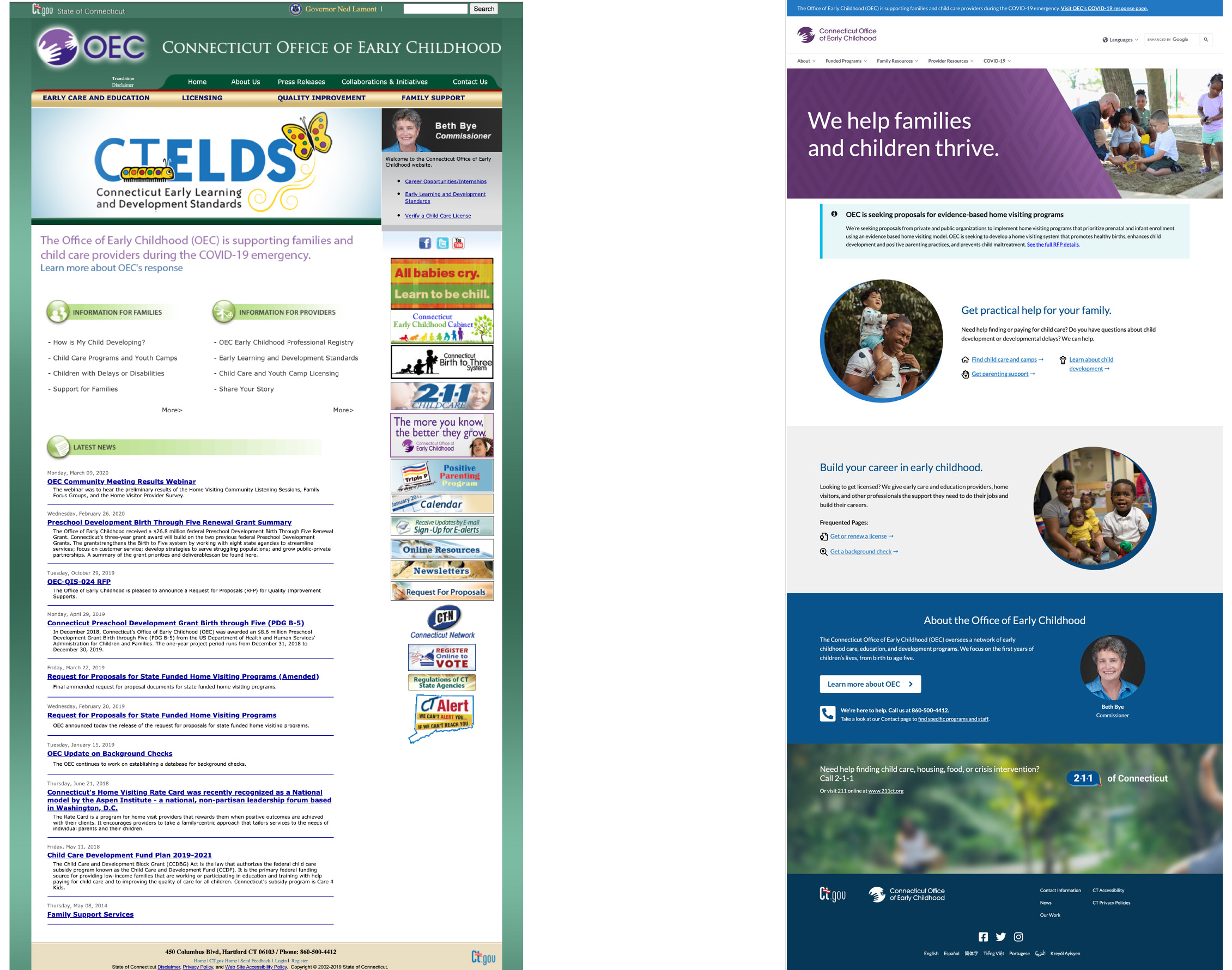 We launched OEC's newly designed web presence in phases to offer value quickly instead of waiting to release a final product. The new site opens up OEC's content and services to more audiences with its:
Responsive design that allows people to access the site using different devices, including mobile
Page templates that are accessible to people using screen readers and other assistive technology
Plain language content for families that's engaging and practical
Intuitive navigation to help users find what they're looking for more quickly
Working closely with OEC and its key audiences, we've created a website that's a huge technology upgrade and easier for OEC to maintain and develop. And most importantly, OEC has a better tool for sharing information that can improve the lives of children and families.
Clean look, bright colors, not overwhelming, and easy to search."
Feedback from a Community advocate
SERVICES USED
User Research
UI/UX Design
Technical Discovery
Process Mapping
Software Development
Content Development and Strategy
Digital Communication and Engagement